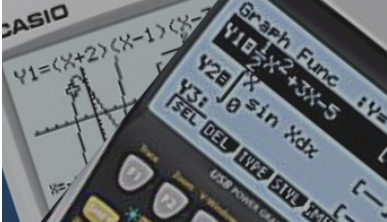 Is CASIO approved for students taking diploma exams?
Yes. Both the 9750 GIII and the 9750 GII models are approved for student use on diplomas.
How do I put my calculator in exam mode?
It is super easy to put the 9750 GIII into exam mode! With the calculator off, press three buttons all at once: COS, 7, and AC/ON. The calculator will ask if you want to enter examination mode. Press F1 for yes. The unit will then be locked in exam mode for 12 hours. After 12 hours, it will auto unlock itself.
How do I get the calculator delivered to my school for free?
You need the correct promo/coupon code. You will find this code on the bookmark your teacher gave you at school, or you can check out the list of schools here. When you enter the code for your school, it will take off the shipping charge. It will also slate your calculator for delivery to that particular school regardless of the address you give as the shipping address.

My school is not listed for free delivery - what should I do?
All we need from your school is a teacher willing to accept the deliveries from us and pass it out to the students. If your school is not listed and you have a teacher willing to do this, please have them contact us at casio@cpm-e.com.

Am I supposed to put my school address in as the shipping address?
Nope. You can just click that your shipping address is the same as your billing address. The code that you have put in for school delivery will override the shipping address entered, so you don't need to worry about it.

My credit card is not working - what's wrong?
First, make sure it is a credit card that we accept. CPM-E accepts Visa, MasterCard, Discover, & Diner's Club International. The system does not take debit cards, including visa debit. Other common reasons for cards not being processed is the incorrect security code (CVV code - three digits on the back of card), or the billing address you have entered does not match the one of your credit card statement.

I bought two when I only meant to buy one… what do I do?
Take a deep breath and don't worry. :) Connect with us at sales@cpm-e.com. Explain the issue and what you meant to do. We will correct it on our end for you and refund the money you didn't mean to spend.

I don't want to pay by credit card… do you have another option?
Our site is powered through Square and accepts all cards, including debit cards.
We are also pleased to offer payment by PayPal or email money transfers as well. These are not done through our online store, though, so connect with us directly at sales@cpm-e.com if you wish to use these options. We will get your order ready, send you an invoice, and ship out upon receipt of your payment.

Is there a warranty on the calculators?
Yes. CASIO offers a one year warranty from the purchase date. Any warranty issues are handled directly with CASIO by sending the calculator along with proof of purchase to Service Department, CASIO Canada LTD, 600 Alden Road, Suite 600, Markham, Ontario L3R 0E7.